Cold Rolling Mill Roll Manufacturer India [DeeTee]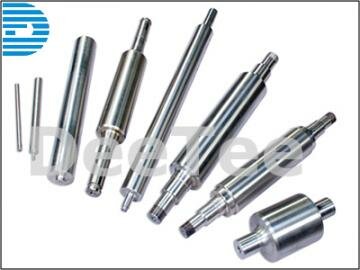 R.M.R division of DeeTee Industies Ltd. pioneers as a manufacturer and supplier of cold rolling mill rolls used in rolling mills for cold rolling process of ferrous material. We are manufacturer and exporter of Cold Rolling Mill Rolls, Backup Rolls, Sheet Mill Rolls, Coil Mill Rolls, Skin Pass Rolls, Aluminum Mill Rolls, Forged Steel Rolls, Stainless Steel Rolls and Work Rolls in India.
COLD ROLLING MILL ROLL MANUFACTURER
We are one of the leading manufacturer's in India for wide range of forged Hardened Steel Rolls for Cold Rolling Mills (ferrous & non-ferrous) the rolls are forged and finished with quality surface.
The selection of raw material for manufaturing cold rolling mill rolls are only after stringent test performed on various parameters before the raw-material is put under processing for manufaturing the rolls.Generally it is imported from renowned sources from worldwide and is checked for – macro structure analysis, micro structure analysis, ultrasonic soundness and heat-treatment response. Proper heat-treatment cycles ensure hardness uniformity and proper depth of hardness.
The finished rolls for cold rolling mill rolls are inspected for quality testing prior to shipping of rolls to the customer. The rolls are inspected for the following
Surface hair-line cracks by magnetic particle testing

Sub-surface defects like inclusions by ultrasonic testing with the help of angular probes

Internal defects by ultrasonic testing with the help of straight probes

Hardness by Rockwell and equotip hardness testers.
We manufacture following rolls cold rolling mill rollls
2 Hi Rolling Mill Rolls

4 Hi Rolling Mill Rolls

6 Hi Rolling Mills Rolls

20 Hi Rolling Mills Rolls
Page Keyword : Cold Rolling Mill Roll, Cold Rolling Mill Rolls Manufacturers, Cold Rolling Mill Rolls Suppliers,rolling mill roll manufacturer, cold rolling mill roll manufacturer india