Slotted Angles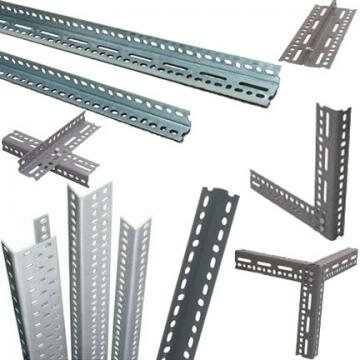 We are the leading manufacturers of slotted angles in India. The slotted angle that we manufacture are utilized in building and fabricating various racks and shelves structure " Slotted Angle Racks". The slotted angle are made up of various materials like Mild Steel and Stainless Steel.
Slotted angle enables you to outline and assemble very nearly anything to your determinations and necessities, for example, racking, workbenches, casing racks and cutting tables. This is a standout amongst the most flexible and temperate items that you can use in gathering your stockpiling supplies. These Slotted Angles offer you such an adaptability and adaptability of use that they never get to be old or worned out. As your needs change, your Slotted Angle will have the capacity to conform to new formats without breaking a sweat and straightforward moves. Our Slotted Angles are produced using hight quality H.R Sheets, and C. R Sheets that are supplied by trusted manufacturers and we adhere to stringent quality conmtrol test before we put these sheets for fabrication of slotted angle that are used for various structures for racking and storage system
We are occupied with giving an extensive variety of Slotted Angles that are available in diverse sizes. This accumulation is made up of fine quality steel and might be tweaked according to the customer's necessity. These Slotted angle structures accompany diverse examples of slooted holes, and customers can pick the particular case that best suits them. We offer this extent to our customers at ostensible costs.
Various Application of SLOTTED ANGLES

Slotted angles are primarily used for fabrication of various racking and storage structures which are used in
Open type & closed type racks
Mezzanine Platforms & Floors
Multi Tier storage Racks
Storage Racks
Steel Staircases
Trolley
Work benches
stackable book racks
Slotted angle enables you to fabricate an efficient framing structure that are used for various aplications from machine guards to hand rails. Slotted Angle is the most versatile, time and cost effective construction material available for building carts, ladders, benches, shelving, cases, racks or any other type of structure. The slotted angle are genrally made of either 12 or 14 gauge roll-formed steel. To provide aesthetics and corrosion restant, Slotted Angle is finished in Gray Powder Coat Enamel.
CONTACT US FOR ALL YOUR REQUIREMENT OF SLOTTED ANGLES FOR RACKS AND SHELVING SOLUTIONS
KEYWORD: Slotted Angles Manufacturers India, steel Slotted Angle suppliers, slotted angle shelf, slotted angle racks manufacturers, slotted angle shelves suppliers, heavy duty slotted angles