Storage Metal Bins & Metal Boxes Manufacturer India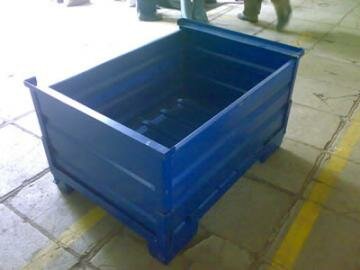 Wide range of storage metal bins and boxes are manufactured by us and marketed under the brand name of GIRRAFE. The storage bin and boxes manufactured by us are sturdy for rough handling of storage materials.Sturdy all welded double wall steel construction and fold able bins.Stackable metal storage bins are also manufactured which can be place on top of each other.
We are the key Manufacturer and Supplier of Metal Storage Bins in the industry. Our Metal Storage Bins are highly acclaimed by the clients for their excellent quality. We manufacture these Metal Storage Bins using premium grade steel to ensure their durability and sturdiness. These are available in different capacities and at affordable rates.Metal storage bins and boxes for Industrial Storage solution manufactured and supplied with GIRAFFE brand of metal bin boxes can be a perfect solution for your metal bin boxes storage solutions.
Heavy-Duty Steel Bins
Heavy-duty units for storing all types of small parts - fasteners, hardware, components - everything! Durham Bins are extra rugged. Cold rolled steel welded design will not warp, twist or sag.
Features Of GIRRAFE Metal Storage Bins
Sturdy construction

Durable

Corrosion resistant

Optimum quality
Keywords : metal bins manufacturer, metal bins manufacturer india, metal storage bins, metal bin boxes manufacturer, foldable bins manufacturer,stackable metal bins manufacturer