Long Span Shelving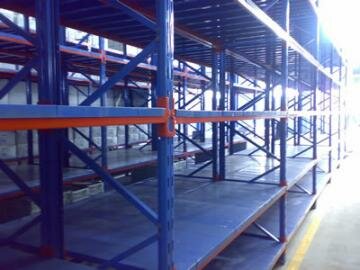 Design for fast access and maximizing minimal storage capacity, our Longspan Shelving Rack system is a versatile solution to a vast majority of businesses.Long span racking system is a perfect storage and racking solution for storage of light to medium heavy loads. long span racking system is similar to pallet racking. It comprises frames, beams with accessories and wooden or metal shelves.
By implementing conventional racking system space loss is experience in case of different stock keeping units dimension and size as goods do not fit exactly. Girrafe Long span racks deployed in a long span racking system is a perfect shelving and racking solution, you can achieve maximum storage area with minimum wastage of space. Bulky items are easily stored and retrieved making stock moving operation very easy and quick.
GIRAFFE long span racking units offer durability and long lasting storage racking solutions and provides maximum return of your money invested in long span racking for storage solution.
Benefits of GIRAFFE Long Span Racking & Shelving
Long Span Racks can be easily assembled

Long Span Racking System is provides maximum stability with low maintenance

Long Span Racks

are most cost effective storage racking system
Longer length shelving with a high load bearing capacity Fully adjustable shelves used in Long Span Racking System


Long Span Racking System

comprises of frames, beams and wooden or metallic racks and shelves

Increase your storage space by adding extension units
You can use the long span racks for in a racking system in almost any situation: shelving racking, long span racking, multi-tier and high rise installations.
Keywords : Long Span Racks, Long Span Racks Manufacturer, Long Span Racking System, Long Span storage shelves, long span shelves, long span shelving