Rack Supported Warehouse Design & Manufacturers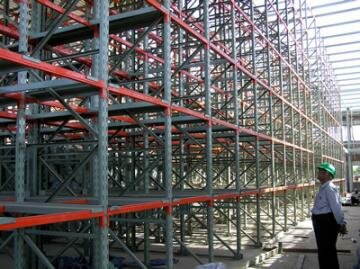 Rack supported warehouse are the new generation warehouses which is achieving global acceptance for storage solutions as warehouse storage system. We are manufacturer of rack supported warehouse and having a vast experience in construction and implementation of rack supported warehouses for industrial storage solutions and storage solution for diversified applications
We are manufacturer and supplier of rack supported warehouse in India. The main objective of our engineered rack supported ware is the weaim is to provide efficient a durable rack supported warehouse solutions for all your storage and efficient material handling. We also fabricate rack suported warehouse as per the custom requiremens.
With AS/RS rack supported warehouses you can achieve an enhanced material handling operations with higher operational efficiency. Higher efficiency and better operation is due to the fact that in AS/RS rack supported warehouses manual stacking and handling of material operations is eliminated. Automation is achieved in ASRS rack supported warehouse / self supported warehouse by use of material handling equipments like Forklifts used for loading and unloading operation in rack supported warehouses stacks. Storage capacity in rack supported warehouse system is doubled with the usage of vertical space and increased cubit square feet of storage area is achieved.
GIRAFFE brand of rack supported warehouses / self-support and rack-clad warehouses creates an extremely efficient high capacity storage warehouses. We design, construct and fully integrate a range of key products and technologies according to clients custom specifications to form a turnkey warehouse solution that offers long-term productivity and profitability.
Keywords : Rack Supported Warehouse, Rack Supported Warehouse manufacturer, Rack Supported Warehouse manufacturer India, Self Supported Warehouse, Self Supported warehouse manufacturer , industrial storage warehouse storage system
Preview Following Relevant Websites
------------------------------------------
RackSupportedWarehouse.com IndustrialStorageRacks.in Boltlessshelves.com