industrial shoes manufacturers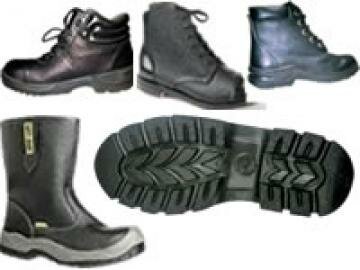 We are a manufacturer of industrial safety shoes and is of prime quality and durable to withstand various common wear and tear common in various industries. Industrial safety shoes manufactured by us are soft texture and are available in various colors- black and brown are being most prominent color safety industrial shoes required by our clients.The Industrial shoes are provided with cushion and ankle padding and provide strong support to your feet and for all comfort and resistant to foot fatigue.We manufacture for industrial sfaety leather shoes, industrial safety Gumboots, industrial pu shoes which are avaiable in wide range of sizes and styles.
Some of the various types of Industrial Safety shoes manufactured by us are
ELECTRICAL RESISTANT INDUSTRIAL SHOES: The Electrical Resistant industrial Shoes are of leather upper with fiber toe which is electrically resistant up to 16 KV. These industrial shoes are also exported by us to our global clients. The electrical resistant industrial shoes comprises of Moulded PU Sole and are available in various ranging from 5 to 12 inches. As an safety industrial shoes manufacturer in India we maintain all safety and industrial norms for our industrial shoes, ensuring that international norms of safety and security is followed and maintained with a stringent quality control.
ANTI STATIC INDUSTRIAL SHOES : These types of industrial shoes are Anti Static Shoes and are opted for effecting grounding of mobile personnel. Available in both slip on version as well as lace version one can pick and choose as per their convenience. Like all our other products we ensure that high quality materials are use to manufacture this shoe.
PVC GUMBOOTS : Engaged in manufacturing, trading and exporting an exclusive range and most common safety industrial shoes which are PVC Gumboots. These types of industrial shoes are made from PVC/ rubber in half/full form that which makes it resistant to alkali and acid resistant. These type of industrial shoes are provided with anti-skid soles and fabric lining. We also manufacture these gumboots as per the clients' specifications. These types of industrial shoes has wide application in various industries like petrochemical, construction, refineries chemical, and fertilizer industries.
CONTACT US FOR YOUR BULK REQUIREMENT OF INDUSTRIAL SHOES





Keywords : Industrial Shoes Manufacturers, Industrial Shoes Suppliers, Industrial Safety Shoes Manufacturers,Industrial Safety Shoes Suppliers,Industrial Shoes Manufacturers India, Industrial Shoes Suppliers India, Industrial Safety Shoes Manufacturers India,Industrial Safety Shoes Suppliers India,Wholesale Industrial Shoes suppliers , Industrial Shoes Bulk Suppliers India, Industrial Safety Shoes Exporters India,Industrial Safety Shoes wholesale Suppliers,Industrial leather Shoes Manufacturer,industrial safety leather shoes Suppliers India, Industrial leather shoes Wholesale,industrial rubber shoes,industrial rubber shoes Manufacturers,industrial rubber shoes suppliers India,Industrial GumBoots Manufacturer,Industrial Boots Manufacturer,Industrial GumBoots suppliers,Industrial Boots suppliers India