Circular Saw Blades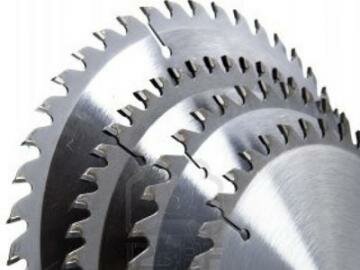 We are leading manufacturer of circular saw blades in india. we are also an exporter of circular saw blades that are marketed undet the estabilished brand name fof DeeTee, these circular saw blades and been widely accepted by our customers globally circular saw blades are most appreciated for its quality and performance in various industrial cutting solutions for cutting of various type of ferrous and non ferrous metals
Precision design circular saw blades is specially engineered for keen cutting and enduring performance. These circular saw blades is heat-treated, surface ground and chrome plated for toughness.High speed steel is used as raw material for the manufacturing of circular saw blades, these are throughly tested for various parameter to ensure production of high quality circular saw blades which are also exported by us to various countries.The circular saw blades manufactured by us are quality tested for hardenability to sustain all heavy duty industrial cutting and sawing solution with the use of our circular saw blades.
Circular saw blades manufacted by us are categorized into various grades and quality depending on the type of raw material used for the production of circular saw blades the finished product of circular saw baldes are categorized as follows
Steel blades which are used in product for circular saw blades are inexpensive and work well for cutting softwood; however, they dull quickly in hardwood.

High-speed steel blades (HSS) these circular saw blades are harder than steel blades and has a sustained sharp tooth edge for a longer life.

Carbide blades Circular saw blade that are manufactured by use of carbide tips attached to their teeth. They're more expensive than other blades but stay sharp much longer than steel or high-speed steel.

Diamond blades use diamond-tipped teeth in the circular saw blade designed for cutting ceramic tile, glass and concrete.

Abrasive blades Circular saw blades that are produced with the raw material as abrasive material and are prefered for cutting concrete, brick, cinder block and other masonry materials and metals.
Circular saw blades are used for wide range of cutting purposes like
Wood Cutting Circular Saw Blade
Aluminum Cutting Circular Saw Blades
Hard Metal Cutting Circular Saw Blade
Ceramic cutting
concrete cutting
CONTACT US FOR ALL YOUR REQUIREMENT OF CIRCULAR SAW BLADES FOR CUTTING SOLUTIONS
Visit Official Website of the DeeTee Industries, Manufacturer of Circular Saw Blades In India
ShearKnives.com | SlitterCutter,com






Keywords : Circular Saw Blades Manufacturer, circular saw cutting, circular cutting saw blades,circular saw knives, tct circular saw blades, diamond tipped circular saw blades, concrete cutting circular saw blades