Friction Saw Blades Manufacturer India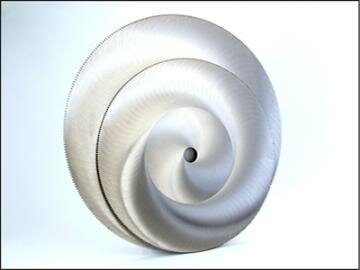 Manufacturer and supplier for a wide range of friction saw blades and knives applicable as an industrial cutting tools and various cutting operation and obtaining high precision in sawing solution with the friction blades manufactured by us. Our friction saw knives and blades offer maximum cutting cycle for hard material and provide burr free cutting edge to the materials being cut.
Friction Saw baldes are designed for cutting thin sections of mild steel. Friction saw is widely used for sawing of ferrous metal.With the use of friction sasw blades the cutting of ferrous material is based on the principle of cutting done by friction which requires a fine profiled tooth blade that operates at a very high speed and is used as heavy duty saw which can operate under high temprature since cutting is based on friction which generated frictional heat. The friction saw are equipped with large motors and clamping fixtures for diversified cutting operation which are preformed as a cutting tool.
Since friction saw blades generates lot heat and burning effect as it performs the cutting operation of an hard metal object can lead to some burring of the material. The friction saw blades manufactured and supplied by us are superior than abrasive wheels where finish and cutting life are important and provides a burr free finish to cutting object.
Regular sharpening of friction saw tooth are alsways suggested by us to maintain the burr free smooth finish of the cutting objects and also avoid any cutting damages due to over heating and burning.
Our Friction saw blades undergo stringent quality test procedures before its shipped to customer or racked for sale very friction saw blade is inspected for flatness, tension, balance and cracks.
We also undertake buld order for custom specification of friction saw blades on request.
Visit Related Websites For More Details About Friction Saw Blades Manufacturer India

Visit Official Website of the DeeTee Industries, Manufacturer of Friction Saw Blades In India
ShearKnives.com | SlitterCutter,com

Keyword : Friction Saw, friction saw blades, friction saw Blades Manufacturer India,friction saw cutting ,friction cutting saw,hot friction saw blades