Impeller Repair Services By Arconomic - India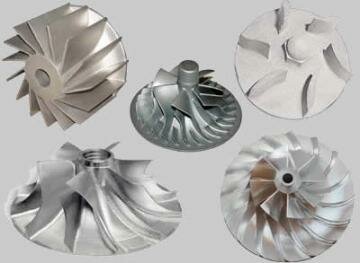 We are Impeller manufacturer and supplier in India and also undertake various repair projects for impellers. Impeller repair,Impeller shaft repair,Impeller fan Repair,Impeller Blade Repair. Our foundries and machining facilities for impeller repair and manufacturing have excellent equipments and skillful experienced engineers under professional management.
Impeller is nothing more than a series of vanes attached to a central hub for mounting on the shaft without any form of side wall or shroud. This design is much more sensitive to vane wear than the semi or closed impeller.
We undertake following IMPELLER REPAIR JOB WORK with best turnaround time

1) Impeller blade repair, bore repair, dynamic balancing.
2) Manufacturing of new impeller of stainless steel, Bronze Alloy, Aluminium etc.
3) Reshafting of ID,FD,PA Fan
4) Repair of ID, FD, PA Fan Shaft for seating area by "Arconomic®" Process without adding any heat to the component
Impeller repairing work undergo series of valious surface treatments available with us like: Sand blasting, power coating, painting, anodization, electrophoresis, zinc plating, black oxidation. We aim to provide the new look to the impeller repaired by us in out workshop.
Impeller Pumps : Manufacturer and repair for Impeller pumps which are for two different types of impeller pumps. Single suction impeller pump or double suction impeller pumps. A single-suction impeller allows liquid to enter the center of the blades from only one direction.A double-suction impeller allows liquid to enter the center of the impeller blades from both sides simultaneously.
Impeller fan
Our foundries and machining facilities have excellent equipments and skillful works under professional management
We undertake impeller repair jobs for various types of impeller and are also manufacturer of impeller casting as per custom requirements.
If you need carbon steel or stainless steel impeller, we will use investment casting to do. Send us the drawings with material and weight, we will quote you for the best casting of impeller
Page Keyword : Impeller Repair Services India Impeller repair,Impeller shaft repair,Impeller fan Repair,Impeller Blade Repair. , Impeller Repairing workshop India,