LED Display Boards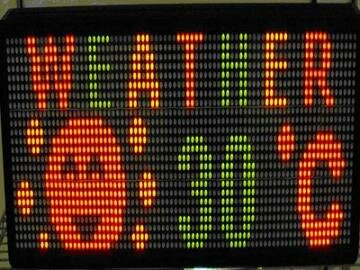 various Industrial applications parameters like temperature, pressure, flow, humidity or electrical parameters like voltage, current, frequency etc are to be displayed which is to be viewed from greater distances. These displays can accept multiple inputs so as to work as large LED Display boards.Bright numeric and Alphanumeric LED Display boards are available in various dimensions and colors as required by our clients.
LED is the abbrivated term used for light emitting diode. LED is an semi conductor that emits visible light when electricity passes through it. The emission of light depends on electrons flowing between anode and cathode and the color of the visual emission, depends on the material utilized. LED diplays are are a very popular means of display due to the clarity of display and its readability from distance.
We pioneer in LED Displays board manufacturer in India. We offer several varieties of LED Display boards to the customers which are scrolling led display boards. We design, develops, manufacture and install such LED display boards which have been working successfully round the clock with no down time as various locations for advertisements an industrial applications.
LED Display boards are used for various application like
Advertising boards
Sign boards
Message Scroll display units.
Various reading in Digital Intruments