copper flexibles manufacturers india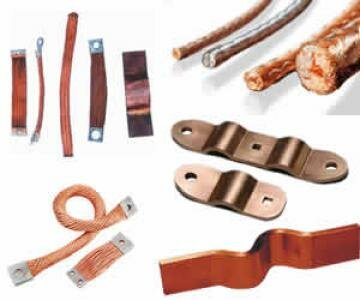 One of the leading copper flexibles manufacturers in india with a product catalog for copper flexible like Braided Sleeves, Braided Cables, jumpers, copper connectos and various custom copper flexibles suppliers as required by the clients. we are located in India as manufacturer and Supplier of wide range of copper flexibles & braided copper. The entire range of copper flexibles products are manufactured with the use of best quality raw material with a stringent quality control test of both raw material and the finished products.
The copper flexibles products that we manufacture are know for it durability, reliabilityand flawless quality. The company is a leading manufacturers in India for various types of copper flexibles and are available at market leading prices with best cost to quality ratio.
we are the manufacturer of following range of copper flexibles that is offerred at best price to various industries in India.
Flat Braided Copper Flexible These copper flexible braids are manufactured from ø 0,05 to 0,20 tinned or plain copper wires from 1 sq mm to 350 sq mm. we also manufacture flat copper braided flexibles as per our customers requirements and is accordance to standard DIN 46444.

Square BraidedCopper Flexibles These braids are manufactured from 0.25 mm² to 180 mm² from ø 0.05 - 0.07 - 0.10 - 0.15 - 0.20 wire
Round Braided Copper Flexibles Flexibles We are manufacturer of round copper braid coppe flexibles them from tinned or untinned wire, mainly from ø 0.05 and 0.07 wire It is possible to manufacture them with different compositions 8 - 12 - 16 or 24 spindles on requests and in the following quantities.
Some of the coppper flexible products are as follows
Copper Braided Sleeves
Copper Connectors
Copper Braided Cables
Copper Busbars
CONTACT US FOR ALL YOUR REQUIREMENT FOR COPPER FLEXIBLES AND BRAIDED COPPER BRAIDED FLEXIBLES, AS WE ARE LEADING COPPER FLEXIBLE MANUFACTURER COMPANIES IN INDIA






Keywords : copper flexibles, copper flexibles manufacturers, copper flexibles manufacturers India, copper flexible, copper flexible manufacturers, copper braided flexibles, copper braided flexible manufacturers, square braided copper flexible