Automotive Fuel Pump Manufacturer India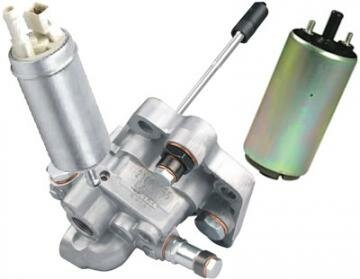 We manufacture and supply Fuel Pumps for various engines which are designed to provide uninterrupted flow of fuel to an engine using fuel injection at system pressure. The fuel pumps manufactured by us are for various small, medium and large engines for both petrol and diesel engine fuel pumps.
Fuel Pump Manufacturer & Supplier:
fuel pumps which are manufactured by us are engineered and designed with precision components. All the components and various assemblies of the fuel pumps are manufactured under stringent quality control and also maintain the quality standards. Each set of components for a given pump structure is rigorously tested and calibrated for optimum performance and durable for long lasting trouble free operation of fuel pumps used in petrol engines and diesel engines.We manufacture fuel pumps in large volume in order to keep the cost low
After assembly, each pump is tested for Operating LPH flow volume, AMP rating, noise dB, peak pressure rating, back-flow valve operation, pressure relief valve operation, and pressure load performance.
Fuel pumps manufactured and supplied by us has a significant design and performance benefits as compared to other manufacturer and suppliers of fuel pumps
Performance Advantage Of Fuel Pumps Manufactured & Supplied By Us For Small Engines
Small Engine Fuel Pump used with fuel injection systems to help reduce emissions by lowering heat⁄vapor generation. It can also help manufacturers meet new and future non-automotive emissions regulations around the world. Fuel Pump provides superior low-fuel delivery performance and excellent pump durability. It is more cost effective and is offered at a lower cost as compared to various other fuels pumps manufacturers.
Fuel Pump Various Automobie Brands
We are manufacturer and supplier of fuel pump for various brands of automobiles like Audi, Ford, Daewoo,Fiat, General Motors,Hyundai, Mercedes Benz, Mitusubishi,Nissan, Opel, Peugot, Porche, Renault, Skoda, Susuki, Toyota, Tata, Mahindra, ETC.
Pertol Fuel Pump Operation
Fuel Pump is a diaphragm type fuel pump which is commonly used in al types of petrol engines in an automobile since the need of extra pressure of fuel is not needed to delive fuel at avery high pressure in a petrol engine fuel pump. Petrol engine fuel pump is used to pump the fuel from fuel tank to the carburetor attached with the automotive engines in an automobile driven by petrol. The operation involves a flexible diaphragm that is moved down against the force of the diaphragm spring by the diaphragm lever and the operating arm which is actuated by the camshaft.The pressure falls in the pump chamber and so the fuel from the fuel tank flows through the fuel inlet valve. Fuel inlet valve closes at the return stroke as diaphragm spring forces the diaphragm upwards, same time fuel outlet valve opens and thus the fuel starts flowing from the pump to the carburetor.