Jash Engineering Ltd.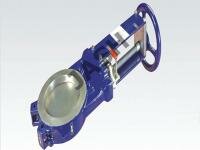 India's leading manufacturer and exporter of Knife gate valves that are used for isolation of solid-liquid mixes in water and waste water treatment plants and and for various water control management system. Knife gate valves are excellent hopper isolation valves with their ability to cut through flowing powders and close by removing any material in the seating area. ... Read details

we are leading manufacturer of zero velocity valves which is marketed under the brand name of sureseal. Zero velocity valve is a water control hammer valves which are mainly used at water pumping stations for raw and clear water.Zero velocity valves are fabricated with MS IS 2062, Sliding surfaces lined with Stainless Steel and Brass / Gun Metal ... Read details
Company info
Jash Engineering Ltd. An ISO 9000 : 2008 Company With over 5 decades of experience, JASH is an industry leader with the largest market share within India for most of the water control system products and equipments used by waste water management industries are manufactured by Jash. It Offers a single stop solution to its clients by offering the most varied range water control gates and valves used for water control system. Some of the products manufactured by Jash which are used in water and waste water management system are Penstocks / Sluice gates, Open channel gates, Weir gates, Flap gates, Stop logs, Knife gate valves, Step screens, Drum screens, Raking screens, Static screens and Butterfly valves.